With the amazing help of Smitten Blog Designs, I am proud to present my new professional website!

You may access it via http://www.virginialucashart.blogspot.com/ or http://www.virginialucashart.com/

or by clicking my button on the sidebar: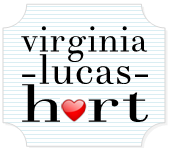 Little Lady, Big Apple
will stay the same and the new site will act primarily as my "flagship" and a place for me to share my artwork. It's still
very much
a work in progress, but I have been so tickled with this project that I couldn't wait any longer to share it with you.
Please stay tuned for more updates!
until next time,
g